B-530 Humidity Sensor for Graphtec Data Loggers
Measures 0 to 100% Relative Humidity
Connect the B-530 humidity sensor to any GL220, GL820, GL900, GL7000, or MT100 for humidity measurements.
Measures 0 to 100% RH
Accuracy of ±3% RH at 25°C
3 meter length (9.84 feet)
Power the B-530 via the data logger's 5V power supply
Connects to any available analog voltage channel on the data logger
B-530
Humidity Sensor
$425.00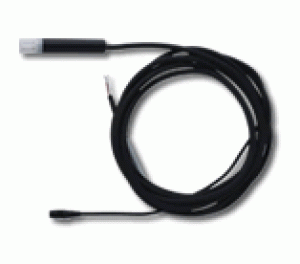 Description
3-meter humidity sensor with dedicated power connector. Learn More.
With a 3 meter cable, the B-530 is powered via the data loggers 5V supply and connects to an available analog voltage channel.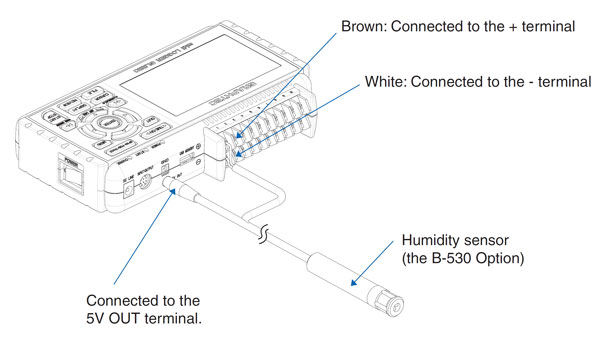 Specifications
Item
Description
Allowable temperature range
-25 to +80°C
Allowable humidity range
0 to 100% RH
Relative humidity measurement accuracy
±3% RH (5 to 98% RH at 25°C)
Method
Capacitance method
Relative humidity measurement accuracy (5-98%)

| | |
| --- | --- |
| Measurement Environment | Measurement Accuracy |
| 0-10°C | ±5% RH |
| 10-20°C | ±4% RH |
| 20-30°C | ±3% RH |
| 30-40°C | ±4% RH |
| 40-50°C | ±5% RH |
| 50-60°C | ±6% RH |
| 60-70°C | ±7% RH |
| 70-80°C | ±8% RH |

Response time
15 seconds (90% response with membrane filter installed
Sensor output
0 to 1 VDC
Sensor power
+5 to +16 VDC
Consumption current
Approx. 4mA
External dimensions
14mm × 18mm (excluding cable)
Cable length
3 meters