Software
Program
Amplifiers
Synchronized AND Distributed High Speed Data Acquisition
Click here to view our line of distributed and synchronized data acquisition products in one glance using our Selection Guide. Easily compare features between all our distributed and synchronized data acquisition systems and find the products that are right for your application.

The Concept
Data acquisition systems are typically synchronized or distributed, but not both. Now, a new class of high-speed data acquisition hardware from DATAQ Instruments gives you the best of both worlds. With it you can acquire data across a dispersed network of data acquisition systems, with complete synchronization. That means that channel values across individual units are acquired in the same time slot, thus allowing meaningful comparisons. The first channel of the first unit, for example, can be precisely compared in time with data acquired on the last channel of the last unit, even though they are separated by hundreds of meters of CAT-5 cable. You can even set up individual units and channels to sample at different rates and still maintain complete synchronization.
DATAQ Instruments' Ethernet interface communication option connects DI-720/-730/-785 or DI-4730/-4108/-4208 Series products to any PC or local area network (LAN). The option uses CAT-5 cable to yield continuous data acquisition rates up to 150,000 samples per second throughput for a single device. Multiple devices connected to the same network can achieve a total throughput rate as high as 2,500,000 samples per second or more. Adding more flexibility, multiple DI-720/-730 or DI-4730/4108/4208 products, each equipped with an Ethernet interface, may be simply daisy-chained together with CAT-5 cable to form an ad-hoc extended network of separated, yet fully synchronous data acquisition stations. Each station can sample at the same or different rate as other stations and still maintain full synchronization. The maximum distance between stations can be as much as 100 meters, and using multiple stations a distributed data acquisition network of virtually any length may be deployed.
Typical Applications
Using these products, synchronous measurements can be achieved in data acquisition situations that are inherently dispersed. Typical applications include, but are not limited to:
In-Vehicle Testing (view application note)
Metal Mill applications (view application note)

Steel strip mill
Continuous Pickle lines
Temper steel rolling mills
Continuous steel casting
Seamless steel pipe mills
Continuous aluminum casting
Aluminum rolling mills

Pulp and paper mills

Wire processes
Presses
Dryers
Size presses
Calendars
Reelers
Unwinders and slitters

PLC fine tuning and troubleshooting to detect:

Electrical sequencing variations and flaws
Mechanical valve actuation latencies
Motor timing conflicts
Hydraulic spikes or drop outs

Structural wind/weather measurements and audits

Tall buildings
Long bridge spans (view application note)
Floating platforms like oil rigs
Extended length vessels like super tankers

Web printing press





How it works
The Ethernet interface of DI-720/-730/-785 products actually contains an embedded Ethernet switch. This approach eliminates the need to provide switches or hubs externally. It also simplifies multi-unit interconnection by allowing a daisy-chain approach. Other firmware on the Ethernet interface ensures multi-unit synchronization.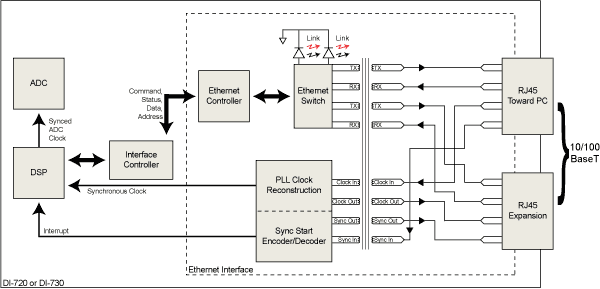 Patented (US 7,792,139 B2)
Typical Deployments
Each application for Ethernet-based DI-720/-730/-785 assumes its own unique character, but here are some deployment possibilities beyond a "single-unit-to-PC" configuration you may want to consider:
Local, Synchronous Expansion
Connect and stack multiple Ethernet versions of DI-720 Series instruments (DI-720 or DI-722), the DI-730, and/or the DI-785 together in any combination. Synchronization between units is guaranteed, and the PC may be local to 100 meters distant from the data acquisition hardware.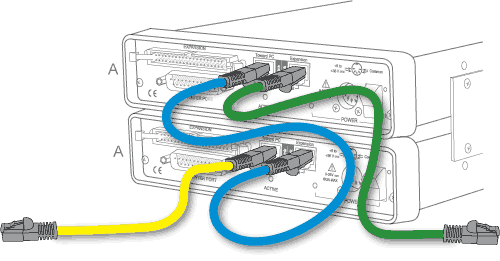 mouse over image for Key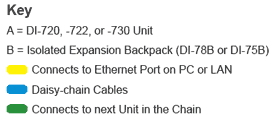 Add Isolated Amplifier Backpacks
Add expansion backpacks like the DI-75B and DI-78B to the mix (DI-720/730 products). Doing so preserves synchronization, increases channel count, and brings the full spectrum of 5B and 8B isolation amplifiers to bear on your measurement tasks.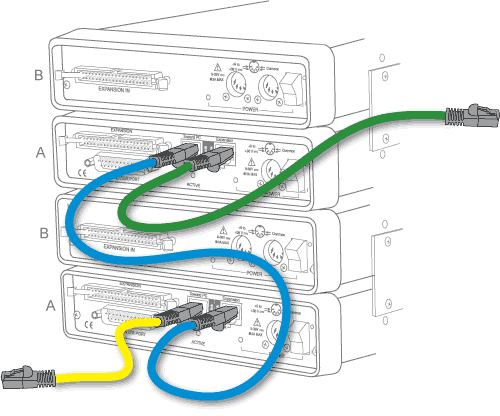 mouse over image for Key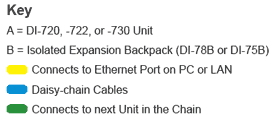 Distributed, Synchronous Expansion
Create multiple measurement stations of any combination of DI-720, -722, or -730 instruments, with or without amplifier backpacks. Individual stations may be separated from adjacent stations by up to 100 meters to yield virtually unlimited overall lengths, with synchronization guaranteed across the entire span.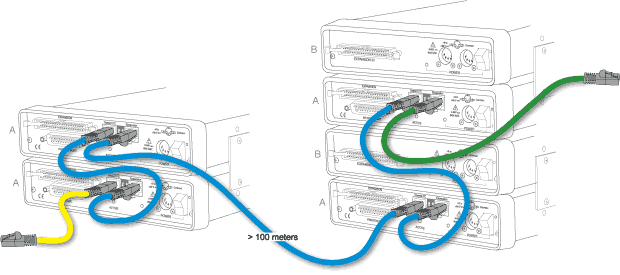 mouse over image for Key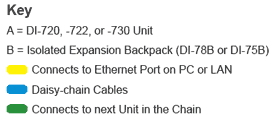 Software
WinDaq software supplied with Ethernet interface versions of the DI-720/-730/-785 provides a complete environment for managing multiple networks, and ensuring synchronous data acquisition, real time display, stream-to-disk, playback, export, and analysis. View the Multimedia Demonstration (4:55).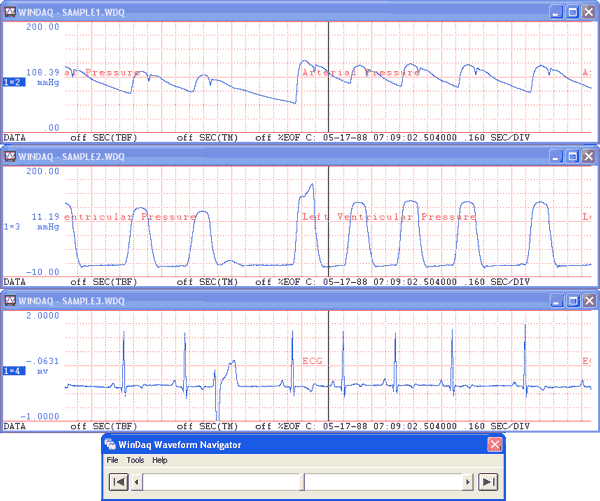 Supported Products
DI-730 Industrial Data Acquisition System
The DI-730 Series is a Heavy Industrial Ethernet Data Acquisition System providing ±1000V channel-to-channel and input-to-output isolation — Perfect for troubleshooting AC or DC motor drive systems. Measure field voltages and currents, control signals, RPM, and more. Also for Electric Motor/Generator Maintenance and Troubleshooting in Mills and Locomotion.
DI-720 General Purpose Data Acquisition System
The DI-720 Series provide general purpose data acquisition solutions for use in situations where pre-amplified signals are acquired. Examples include process monitoring and a variety of medical research applications.
DI-722 Ruggedized Data Acquisition System
DI-722 products feature an extended measurement range (±2.5 to ±20 volts full scale), input protection (up to 120V RMS normal and common mode voltages), and full differential measurement capability. These enhancements allow the DI-722 Series to make otherwise difficult measurements such as in-vehicle testing or any other measurement application where a 10 volt full scale range is inadequate.
DI-785 Industrial Data Acquisition System
The DI-785 features 32 input channels designed specifically for DI-5B modules. DI-5B modules provide a direct interface to measurements such as thermocouple, voltage, strain, frequency, process current, RTD, and potentiometric.
DI-788 Industrial Data Acquisition System
The DI-788 features 32 input channels designed specifically for DI-8B modules. DI-8B modules provide a direct interface to measurements such as thermocouple, voltage, strain, frequency, process current, RTD, and potentiometric.