Model
DVTH
Temperature and Humidity Data Logger Featuring a Built-in Real Time Text and Graphical Display
Includes a DVTH data logger, three "AA" batteries (preinstalled), and software on CD
Logs temperature, humidity, and dew point
Built-in real time text and graphical display
Measures 10°C to 65°C (15°F to 150°F) and 0 to 99% RH (non-condensing)
Stand-alone or PC-connected operation
Onboard sample memory stores up to 43,344 samples
Battery-powered with three (3) standard AA batteries (included)
Built-in USB port for configuration, calibration, and data download
Export to Microsoft Excel®
Description
The DataView DVTH is a self-contained, precision data logger for recording the temperature and relative humidity of the surrounding environment. The DVTH can store up to 43,344 temperature samples, or up to 21,672 of both temperature and relative humidity samples, and it also computes and displays Dew Point Temperature in real time. The data logger's sampling interval may be set from one second to 18 hours in one-second increments. A major feature of the DVTH is a built-in display that provides a real time graphic plot of temperature and RH that even allows you to scroll through the recording history without interrupting the current recording session. Two text summary screens may also be enabled. One displays the current RH, temperature, and dew point in large, easy-to-read block characters. A second displays logging information such as the sampling rate, the number of samples recorded, the length of the current recording and the amount of time left for recording. The DVTH data logger can be provided with a NIST calibration certificate, and also features a tamper-proof design to make it a solution for highly regulated applications.
Software
Supco DVTH Software
Configuration and Analysis
FREE Visit the Support Download page at Supco for software (takes you another site).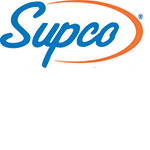 Specifications
Logger Specifications
Text Display:
Displays real time temperature, humidity and dew point. Displays logging summary, sample rate, memory used and memory left.
Graph Display:
Shows measurement trends graphically. Graph can be scrolled through the entire logged data.
Sample Capacity:
43,344 points for temperature only. 21,672 points for temperature, humidity and dew point.
Programmable Sampling Interval:
User selectable from 1 second to 18 hours, in 1-second increments.
Alarms:
Visual over and under alarm indicator for temperature and humidity. Dew point alarms are not available.
Calibration:
User single point offset calibration is available through software for both temperature and humidity. Calibration is password protected.
Operating Temperature:
15°F to 150°F (-10°C to 65°C)
Storage Temperature:
-5°F to 160°F (-20°C to 70°C)
Time Accuracy:
±100ppm @75°F
Relative Humidity Range:
0% to 99%RH, non-condensing.
Relative Humidity Accuracy:
±2%RH, from 10% to 90% RH
Relative Humidity Resolution:
0.01%RH
Temperature Accuracy:
±1°F (0.5°C)
Temperature Resolution:
0.01°F or °C
Dimensions:
4" × 3.05" × 1.5" (10.2cm × 7.7cm × 3.8cm)
PC Interface:
USB port. USB cable is included
Weight:
7.0 oz (200g)
Power Source:
Three AA batteries (included)
Power consumption:
Maximum during recording: 2.7 mW
Standby: 1.4 mW
Power down: 5.0 µW
Battery Life:
1 year continuous use, 2 years average use. The logger automatically turns itself Off after 1 hour, when not logging. Turn On by pressing any button.
Software Specifications
Data Security:
Unique factory set logger ID. Recording session counter. Password protected calibration.
Operating System Compatibility:
Windows 98SE, Windows ME, Windows 2000, Windows XP and above. Not compatible with Windows NT or Windows 95.
Minimum System Requirements:
5MB of free disk space, 800 × 600 screen resolution, 1 free USB port.
Recording Start:
On button press, immediate after setup, or at a user specified date and time.
Recording Mode:
Stop on memory full, or continuous recording with memory rollover
Real Time Status:
Visual indication through the status LED. Software real time status.
User Calibration:
Password protected calibration for each channel.
User Information:
Up to 30 characters
Logger Channels:
User selectable. Disabling channels increases the storage capacity of the other channels.
Units:
US and Metric
Data Format:
Exportable to text or Excel files.
Videos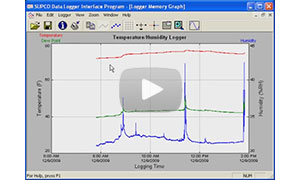 Software Overview
Learn how to get started with DVTH Data Logger Software.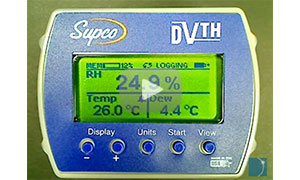 Hardware Overview
Demonstrating the functionality of the DVTH temperature and humidity data logger.