Software
Program
Amplifiers
Your Chart Recorder is Obsolete
It's time to scrap your old chart recorder and replace it with a contemporary solution. You hate the purchase and repair costs, the time spent fine-tuning the chart recorder to keep it running, and filing all that paper. At the same time, you don't want to give up its instantaneous real time display, elegantly simple pen-on-paper storage, and its ease-of-use. If you've looked at other PC solutions and decided that they don't measure up, try one of ours. You won't be disappointed. There has never been a better time than now to retire a mechanical chart recorder for one of our easy-to-use PC-based chart recorder solutions.
DATAQ Instruments offers a wide array of hardware products that are compatible with our WinDaq data acquisition software to elegantly replace any chart recorder. Complete and effective solutions begin at only $50. At any given moment, somewhere in the world, someone has retired their chart recorder in favor of a PC-based recording system from DATAQ Instruments to solve their tough measurement problems. Scan the following requirements grid learn how we can make your measurement tasks easier, more accurate, and less costly.
| | | |
| --- | --- | --- |
| Your Requirements | The Chart Recorder Solution | Our PC-based WinDaq Solution |
| Real time display | Simple pen-on-paper real time focal point. | Uses the PC's monitor to generate an instantaneous real time scrolling or oscilloscope-like graphical and numeric display. |
| Real time storage | Simple pen-on-paper action records activity. | Acquired data is streamed to the PC's hard drive without gaps as Windows-compatible files. |
| Review while recording | Simply look at paper beyond the real time point. | Run WinDaq's Playback software while WinDaq Recording software continues to record. |
| Engineering units scaling | Count Y-axis grids and perform arithmetic aerobics to derive equivalent engineering units. | All numeric and graphical data scaled into your engineering unit of choice. No mental arithmetic. |
| Accurate timing measurements | Count X-axis grids and perform arithmetic aerobics to derive timing. | Instant calculations for elapsed time, and even rates of change. |
| Easy data archive | Reams of chart paper in a filing cabinet. | Windows files on your PC that can be archived to server drives, CDs, DVDs, USB flash drives, etc. |
| PC-based analysis | None. | Use the substantial analysis utilities built into WinDaq Playback software, or export data to Microsoft Excel or any other analysis application that you prefer. |
| Low maintenance | Pens and paper need to be replaced and the electromechanical design is unreliable. | Purely electronic design that is inherently designed for longevity. |
| Simple data sharing | Send or photocopy a sheaf of paper. | Email a data file or share it on a server. Anyone can download our WinDaq Playback software free-of-change to review, analyze, and export to other applications directly from their own PC. |
| Economy | Constantly replenish consumables, like pens and chart paper. | Buy it once. No consumables to replenish. |
| Portability | Be in good shape, or find a cart. | Most of our products weigh less than a couple of pounds and fit in a purse. |
| Stand-alone recording | Intrinsic, since a PC isn't required to acquire data. | Many of our hardware products support stand-alone operation, recording data to a removable SD-style memory card. |
Former Brush and Gould Recording Systems engineers and marketers founded our company. No one understands your needs better and no one has a better solution. Let us show you how you can…
Stop
…paying for expensive chart recorder paper over and over again
…lugging cumbersome chart recorders from place to place
…budgeting large amounts of money for chart recorder purchases and repairs
…analyzing cryptic and time-consuming paper records created with a chart recorder.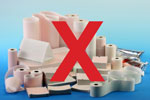 …spending less for more instrumentation flexibility
…leveraging the power of your PC for data collection
…acquiring electronic data that you can e-mail anywhere in the world
…integrating acquired data easily into spreadsheets and word processors
…transporting powerful, full-featured data collection systems in a tote bag.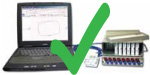 At any given moment, somewhere in the world, someone is using a PC-based recording system from DATAQ Instruments to solve their tough measurement problems. That same person had used a traditional instrument like a chart recorder in the same application. Never again. He has found that instrumentation solutions from DATAQ Instruments cost less and do more.
See for yourself, in four easy steps, how our instrumentation solutions replace traditional chart recorder instruments: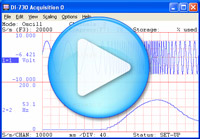 No-programming Environment - Point and click your way around data acquisition, recording, playback, and analysis. If you can use a mouse, you can use WinDaq.
Instantaneous Real Time Display - Our high speed graphing software responds to signal activity without delay at sample rates as fast as 250,000 samples per second.
Fast Recording Capability - While you view the real time display, WinDaq streams acquired data directly to your computer's hard drive.
Automatic Time and Date Stamping - Allows you to correlate recorded data with date and time of occurrence.
And much more… visit the WinDaq Data Acquisition product page to learn more.
Contact DATAQ Instruments
DATAQ Instruments, Inc.
241 Springside Drive
Akron, OH 44333
Prompt and informed answers to your questions:
Email: info@dataq.com
Phone Number: (330) 668-1444
Fax Number: (330) 666-5434
Using a personal computer to acquire data has never been easier or more productive!
Gould Electronic Legacy